Male Fertility Is An Important Factor. Don't Ignore It!
---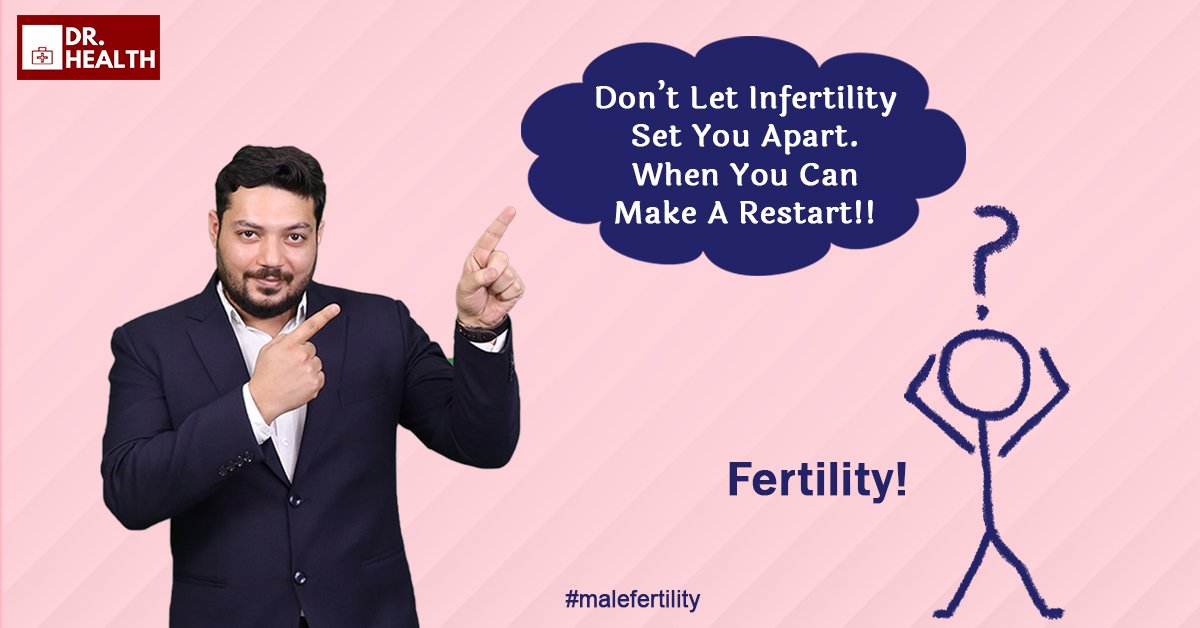 Generally, we think of infertility as being mostly or exclusively a female problem, but did you know that male and female infertility are equally prevalent? Now, it's time to talk about the men. We recount some surprising secrets about male fertility and male reproductive health.
Dad's health is just as important as mum's for healthy babies. Among couples struggling with infertility, complications specific to the man's health are the sole cause or the contributing cause about 40% of the time, says Dr. Himanshu Dhawan (BAMS).
'The major issues we see in most of the men are related to their reduced sperm count, motility—the capacity for sperm to propel towards the egg – and reducing numbers of normally shaped sperm.'
Problems with sperms might also indicate underlying health concerns like high blood pressure, skin disorders, heart issues, vascular problems, & endocrine (gland) disorders.
Unknown Facts About Male Infertility You Must Know
There are 'n' numbers of problems that males are resilient to tell & show. Male infertility is one of the major issues which can dig deep into any man's confidence. But, the conditions can be improved & treated. People believe different things about male infertility, which has nothing to do with all such conditions. You might know about different myths, which revolve around male infertility problems, but in this article, we will explain some interesting facts that you might not be aware of till now. These facts have been verified by proficient Ayurvedic doctor Himanshu Dhawan (BAMS), who specializes in male fertility cases.
Men are not Becoming Fathers, it's on the Rise.
There have been improved cases that show that men are unable to become fathers & this is becoming more common. There are around 7% of men in India face infertility issues & are not able to become fathers. It is a growing problem and mainly for those over the age of 35 years. The exact cause of it is not known, but their sperm rate decreases by almost 52%, which is a lot. It keeps on declining every year & hence it can cause numerous problems.
Men too have a Biological Clock (Effects of Aging).
It means just as women have a specific time in which the chances are high of becoming pregnant, the same is the case with men, too. The rate for men decreases after the age of 40 years & then it becomes difficult for men to become fathers. Even if their partner becomes pregnant, the tendency of miscarriage rises. Thus, there is a particular time under which you should try for parenthood to prevent all such problems.
Having a child after the age of 40 years or while having some kind of infertility issues can even impact your child & result in autism, schizophrenia, & cancer in childhood. Therefore, it is advised to consult your doctor & plan your pregnancy.
Food Choices are Linked to Sperm Count in Men.
The food choices you eat & the number of meals you take in a day also affect your chances of male infertility & sperm count. Individuals who consume processed meat practically every day have lower sperm counts than those who don't. Doctors also recommend avoiding excessive sugar, fats, red meat, & soya from your diet to enhance your sperm count & help in overall health. For reducing the chances of male infertility, you should eat more fruits rich in antioxidants.
Smoking & Drinking can Lessen Fertility in Men – Skip your Happy Hours.
Not only do tobacco smokers incline to have lower sperm counts, but secondhand smokers also can experience the same problem. A report by World Health Organization shows, "if your partner is experiencing in vitro fertilization with your sperm, & you are a smoker, you face 44% reduction in your pregnancy rate." Excessive alcohol use, meanwhile, can lower the testosterone level, making it harder to get an erection, & is linked to liver diseases, also tied to fertility issues. Other substances which can impair male fertility include marijuana, cocaine, & heroin.
Duration of your Sleep can also Affect the Fertility Rate.
In several conditions, the rate of male fertility gets affected by the sleep duration a body gets. This is related to the amount of rest & volume of sperm produced. It is stated that those men who sleep for more than nine hours a day have more reduction in sperm count as compared to the men who sleep for seven hours a day. The ideal duration of sleep defined for young men is around 7 hours to 7.5 hours, which causes a minimal reduction in male sperm count.
In couples trying to conceive, boosting male fertility is as equally important as optimizing female fertility. Even if they may not know it, men need fertility support too. At Dr. Health, we'd focus on the male side of the equation. Maybe you've been trying with your partner for some time, and you'd like to focus on improving your fertility.
And that's quite the good news – your decision to optimize your fertility is actually very helpful in increasing your chances of becoming a Dad. If you are seeking a good place to start, we will help you!
Author Name: Kanika Girdhar
Categories
Type your comment...
Name
Email
Looks good.
Please type something to post a comment.
Please enter your name.
Please enter a valid email address.