Dr. Megha Chaturvedi's Skincare Routine –The Secret to Look Youthful in your 30s
---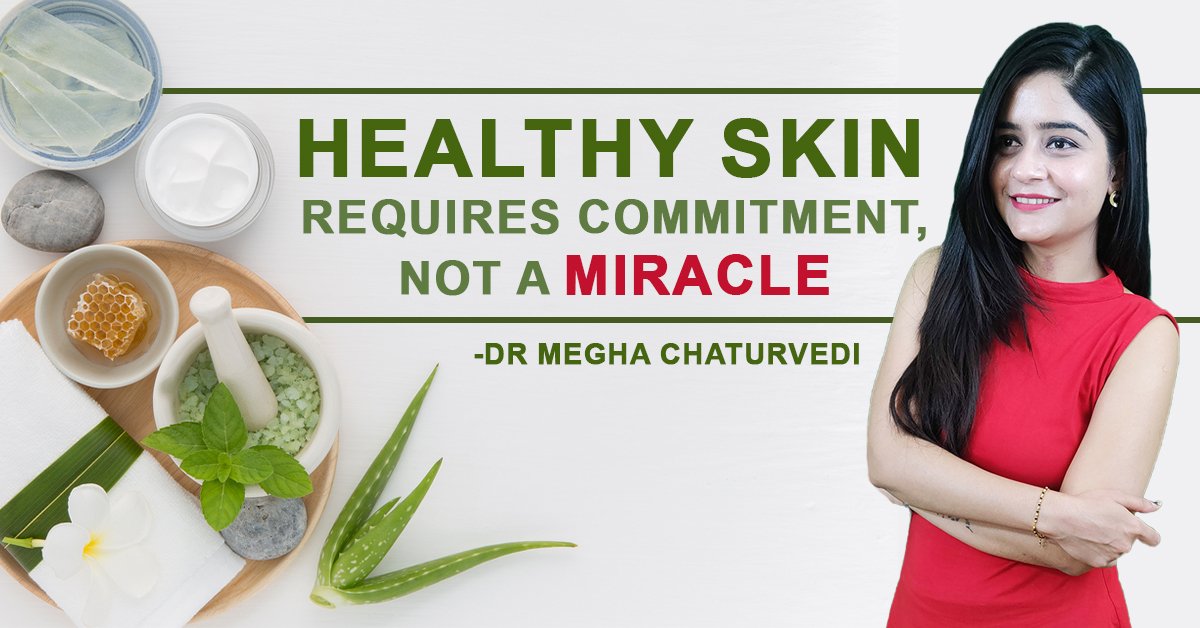 Looking for skincare advice? Do you ever wonder what skincare tips dermatologists use themselves to maintain a healthy skincare routine? Enter, a dermatologist. Well, the expert dermatologist – Dr. Megha Chaturvedi generously shared some of her best skin-care tips with us.
Dr. Megha Chaturvedi has been in the Derma industry for over seven years now. Apart from being an expert dermatologist, she is a fitness enthusiast and a beautiful mama, as well. Her patients often look up to her style cues, fitness tips, and beauty secrets. I mean, people want to know the secret behind her youthful-looking skin & the facts about her beauty.
Continue to read this article, an expert dermatologist – Dr. Megha Chaturvedi shares five skincare tips she recommends to all of her patients – and actually uses themselves.
1). She Always Keeps Her Skin Hydrated
Dr. Megha believes the best way to take care of our skin is by following a simple skincare routine. She strongly believes that we must use moisturizers before we apply our makeup. She also applies a good moisturizer always after taking a shower. Dr. Megha starts her day with a glass of lukewarm water with two Amlas squeezed in. Amla contains high vitamin C content, which helps maintain hair and skincare. She also drinks 2-3 liters of water daily with all this.
Lower water levels in the body can cause dry skin, Oily skin, fungal infections, and acne. In order to keep our skin hydrated, using topical applications is not enough. Also, you need to treat your skin internally.
2). She Never Steps Out Without SPF
Dr. Megha wears sunscreen like her life depends on it. She doesn't step out without applying a generous layer of sunscreen (with a good amount of SPF) on her face & body. She also wears a layer of sunscreen at home to shield her skin from harmful sun rays that might penetrate via the glass windows.
An excellent quality sunscreen protects your skin from both UVA & UVB rays, and it is essential to keep the harsh UV sun rays at bay & protect your skin from prematurely aging.
3). She Uses a Mild Face Wash
She doesn't use a lot of skincare products. She always tries to keep her skin healthy by simply relying on a few genuine skincare products. Apart from a good sunscreen & moisturizer, Dr. Megha relies greatly on mild face washes. She washes her face twice a day, in order to keep the grime and dirt away. She is strictly against using soap on the face as the soap contains harsh chemicals that may damage the top layer of your skin.
4). She Never Misses Yoga
Dr. Megha makes sure to engage herself in Yoga for at least 30 minutes every day. Practicing Yoga on a daily basis helps to improve skin texture by promoting blood circulation. By following a strict Yoga regime, common skin problems like acne, wrinkles, & dullness will stay away. Yoga has been practiced since the ancient times, & it is the best natural way to keep our skincare up to date.
5). She Always Goes for a Healthy Diet
A healthy diet can help you look & feel your best. Dr. Megha prefers to eat plenty of fruits, vegetables, whole grains, and lean proteins. She eats a diet rich in fish oil supplements and low in unhealthy fats & processed or refined carbohydrates that promote younger-looking skin. Drinking plenty of water helps keep your skin hydrated.
All those who follow Dr. Megha Chaturvedi on social media channels – Instagram & Facebook know how much people love to pamper her skin. Her life's mantra is to eat good, exercise every day, and follow a healthy lifestyle. As she is an Ayurvedic practitioner – she is always on the lookout for effective & all-natural remedies. She also prescribes herbal & Ayurvedic medicines to her patients. And, whenever she finds a home remedy that is worth sharing, she either makes a video about it or drops a post on her social media.
Author Name: Kanika Girdhar
Categories
Type your comment...
Name
Email
Looks good.
Please type something to post a comment.
Please enter your name.
Please enter a valid email address.