Dandruff vs. Scalp Psoriasis
---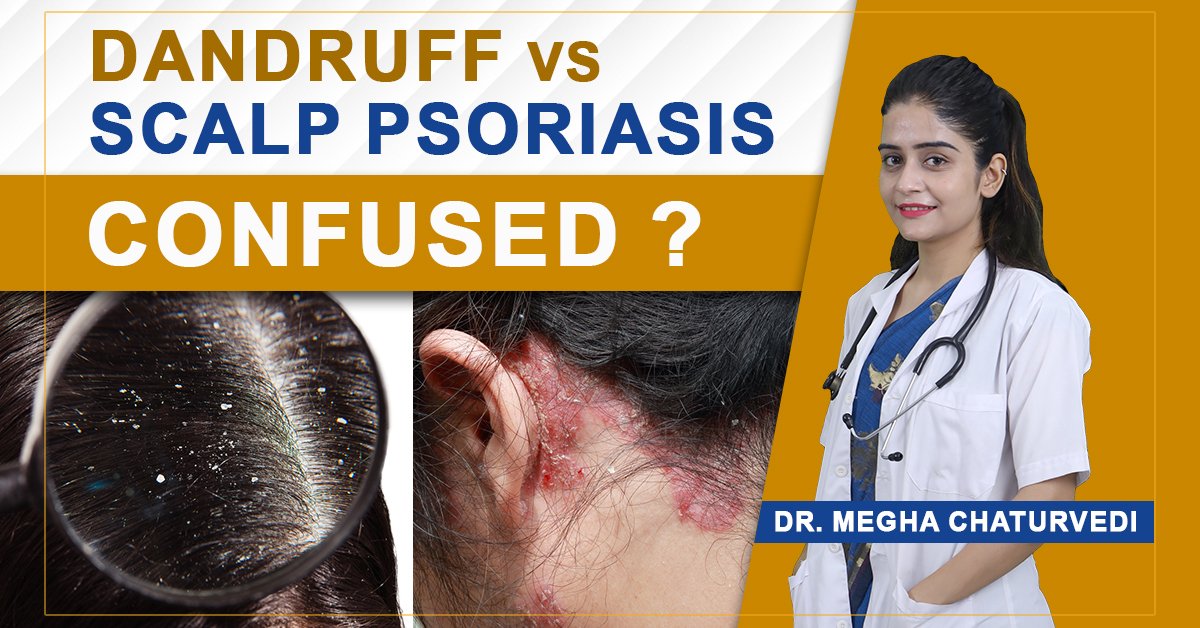 Are you confused about whether the struggle you are going through is from Dandruff or Scalp Psoriasis? What are the causes of Dandruff and Scalp Psoriasis? Is Dandruff a fungus? Is there any treatment option available for Dandruff and scalp psoriasis? These are some common doubts that everyone has in their mind.
Scalp Psoriasis is generally caused due to faulty function of the immune system in which the skin cells are signalled to grow rapidly.
The cause of Dandruff (Seborrheic dermatitis) upon the Scalp is unclear. But it is believed Dandruff development can be triggered by genetic and environmental factors.
Psoriasis the Leading Cause:
To understand more about Scalp Psoriasis, we must know what Psoriasis is. Psoriasis is a chronic autoimmune disease visible as raised red bumps on the skin that might cause itchiness, dryness, inflammation, and scaly skin. Psoriasis varies based on severity and the area affected by it.
There are various forms of Psoriasis, such as Plaque, Inverse, Pustular, Erythrodermic, and Guttate. Areas of the body such as forearms, shins, navel, and Scalp get affected when struggling from Psoriasis.
The Red Scaly Patches of Scalp Psoriasis:
Scalp psoriasis is mainly caused to people who are already struggling with Psoriasis. Scalp Psoriasis is a common autoimmune skin condition that affects the surface of the Scalp. It occurs when your body's immune system mistakenly affects the skin cells of your Scalp, which causes them to grow rapidly. The rapid growth causes the accumulation of the skin cells on the surface of the Scalp, which causes:
1) Red bumps on the skin with flakes and silvery scales.
2) The red scaly patches may extend beyond the hairline and even affect the other body parts.
3) The patches will cause soreness and itchiness.
Dandruff the white flakes:
Dandruff is a skin disorder that primarily affects the Scalp. Dandruff development is generally caused due to genetic and environmental factors. The symptoms of Dandruff include flaking, mild itchiness on the skin, red and greasy patches on the skin, which cause a tingling sensation.
Ideally, the skin cells take a month to mature and shed themselves, but when struggling with Dandruff, the skin cells mature within 2-7 days. As the skin cells grow rapidly, the shedding process results in the accumulation of dead skin, oily clumps, and white or greyish flakes on the Scalp.
For Dandruff and scalp Psoriasis Ayurveda has a proper treatment that cures the root cause of the disease with the help of herbal medications.

To manage mild Dandruff, gentle shampoos can be used to remove the excessive oil and skin cell build-up, and if that does not work, switching to medicated shampoo might bring relief. Hair and Scalp products are available in the form of oil, gels, sprays, ointments, solutions, and foams.

For Scalp Psoriasis, natural medicines are perfect as they help to ease symptoms. The remedies are safe and can be administered by oneself, but if this condition worsens, it is necessary to speak to a doctor and manage it.
Here at Dr. Health, Ayurvedic remedies are adhered with the guidance of our expert Dermatologist Dr. Mega Chaturvedi who has expertise in treating skin-related disorders. With the help of her treatment, thousands are living a happy life. At our treatment centre, Dandruff and Scalp Psoriasis is treated with the help of medicines that contain natural skin healing properties that assist in treating scaly itchy patches, decrease pain, redness, inflammation, and flaking. These herbal medicines also contain anti-inflammatory properties and strengthen the immune system.
Author Name: Shijo V Thomas

To know more about our treatment and our services, Kindly go to our website or our YouTube Channel
Categories
Type your comment...
Name
Email
Looks good.
Please type something to post a comment.
Please enter your name.
Please enter a valid email address.