5 Dreadful Factors to Blame for Male Infertility – Tips to Overcome it
---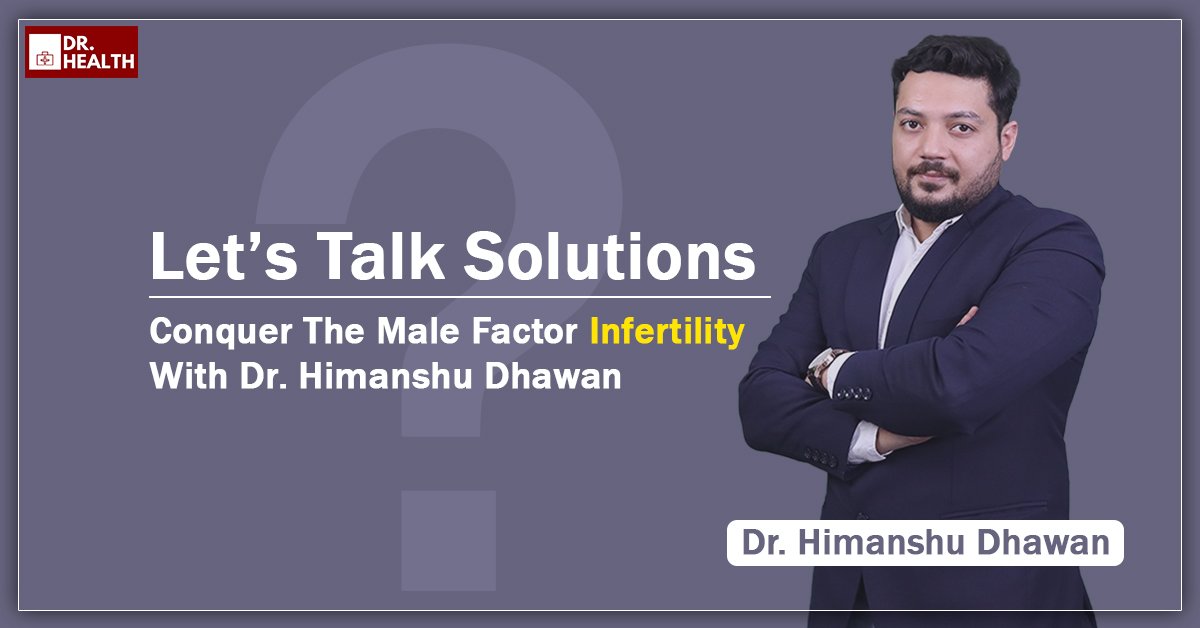 Want to become a dad? Here's what you should do to give you & your partner the best chance of parenthood. Did you know -wearing tight pants or maintaining sitting in a single place for long stretches can result in a low sperm count or male infertility? Continue to read this article and embark on all your answers.
In the last two decades, the reproductive health of males has taken a serious beating seeing a bunch of factors, most of which can be credited to the faulty lifestyle. From bike riding to wearing tight pants and, ironically, smoking & drinking alcohol, there are lots of factors.
Says Dr. Himanshu Dhawan (BAMS), "It is a serious problem of modern-day lifestyle today. Male Infertility has increased many folds due to people's bad habits & poor lifestyles. Any type of addiction is indeed bad for the reproductive health", "But, the problem can always be corrected with the lifestyle improvements and Ayurvedic treatments", he added.
Female fertility is often in the news, & we know that a women's age & health can affect her ability to become pregnant. We do not see so much discussion on male fertility, but if you are trying to become a dad, you need to be aware of the factors that can temporarily or permanently reduce male fertility. Some factors to pay attention to when you are planning to conceive are –
Beware! Prolonged Sitting Can Heat Up The Testicles
Sitting, whether it is for work, for long driving trips, or just to watch television, can also trap heat around the testicles, and that is not beneficial for male fertility. Take breaks to stand and walk around. Prolonged sitting in your workplace can also overheat your testicles. Thus, if you sit at a desk all day, it's possible that the quality of your sperm might be affected.
Remaining sedentary might be particularly challenging if you drive for a living. One study that is looking at taxi drivers suggests that car vibrations might contribute to fertility issues.
Laptops Can Burn You More Than A Slap
Considering laptops can get hot enough to burn the legs, guys may want to keep them away from the crown jewels, as well. There's evidence that, just like in hot tubs & saunas, the heat from a laptop can raise the scrotal temperature that, again, might interfere with sperm production.
Sitting with the laptop on your lap, even if it is on the padded tray, can also significantly increase the temperature of your testicles. If possible, use the laptop on the table instead. The battery of laptops can produce quite a bit of heat. While not all the experts agree that laptops can cause male infertility, Dr. Himanshu Dhawan (BAMS) says – "if you are trying to conceive, you might have to keep the laptop on a table or desk instead of on your lap just to be safe."
Be Careful! Tight Trousers Or Pants Can Damage Testicles
"I have seen numerous cases of men who have twisted their testicles due to wearing tight trousers or pants," said Dr. Himanshu Dhawan (BAMS). When you wear tight pants, jeans, or briefs, you are putting your scrotum in cozy quarters, which can trap heat in the testicles, & this is particularly true during hot summer months when you might already be overheated. "Testicles hang in men's scrotum need to keep cool – they need to be 2.2 degrees centigrade cooler than the core body temperature," says Dr. Himanshu Dhawan (BAMS), men's health expert at Dr. Health." If men wear tight pants or underwear or trousers, their testicles become too, due to which both testosterone & sperm production decrease – a common reason for male infertility. You can wear boxers or loose pants, which are made from natural fiber – cotton.
Yeah! 3 Pegs of Alcohol Can Turn You Infertile
It's not just the ladies who need to check their alcohol consumption if they are planning for a baby anytime soon. Even the males need to be careful about their booze doze. The fact is that alcohol causes infertility in males.
If you are an alcoholic person & you are consuming 60ml plus of any alcoholic drink in one day, there are fair chances that you can turn infertile. Drinking alcohol lowers testosterone levels, causes erectile dysfunction, & decreases sperm production. Moreover, liver diseases that are caused by excessive drinking also might lead to fertility problems in men
Smoking, A Hazard To Your Sperm Count
So, if you are too much into Smoking tobacco or Marijuana, it is directly going to affect your fertility. Smoking lowers the sperm count. Second-hand smoke might affect the fertility of males. Male smokers can suffer decreased sperm quality with lower mobility which boots the numbers of abnormally shaped sperm. Moreover, if you are a chain smoker, it might also decrease the sperm's ability to fertilize eggs.
High alcohol consumption and heavy smoking can cause lower testosterone levels & alter sexual function. Smoking can also adversely affect male fertility, as it might lower sperm count & make it challenging for the little fellows to make their way to a fallopian tube & fertilize an egg.
It's never too late to improve your sperm health. Thus, if you are trying to conceive, staying away from all such habits can make a significant difference. Good health comes from a strict fitness attitude. A fit attitude of males means a robust & well-maintained male reproductive system that avoids heat stress on their testicles. Many men who are diagnosed with male factor infertility face an emotionally complex journey. A fit body, a good lifestyle, and living with an Ayurvedic approach always yield fertility in men. A couple facing male infertility needs to communicate about what is happening to them.
If you want an expert consultation to see improvements in sperm quality, you can come down to our Male Infertility Treatment at Dr. Health to increase your chances of reproductive success.
Author Name – Kanika Girdhar
Categories
Type your comment...
Name
Email
Looks good.
Please type something to post a comment.
Please enter your name.
Please enter a valid email address.